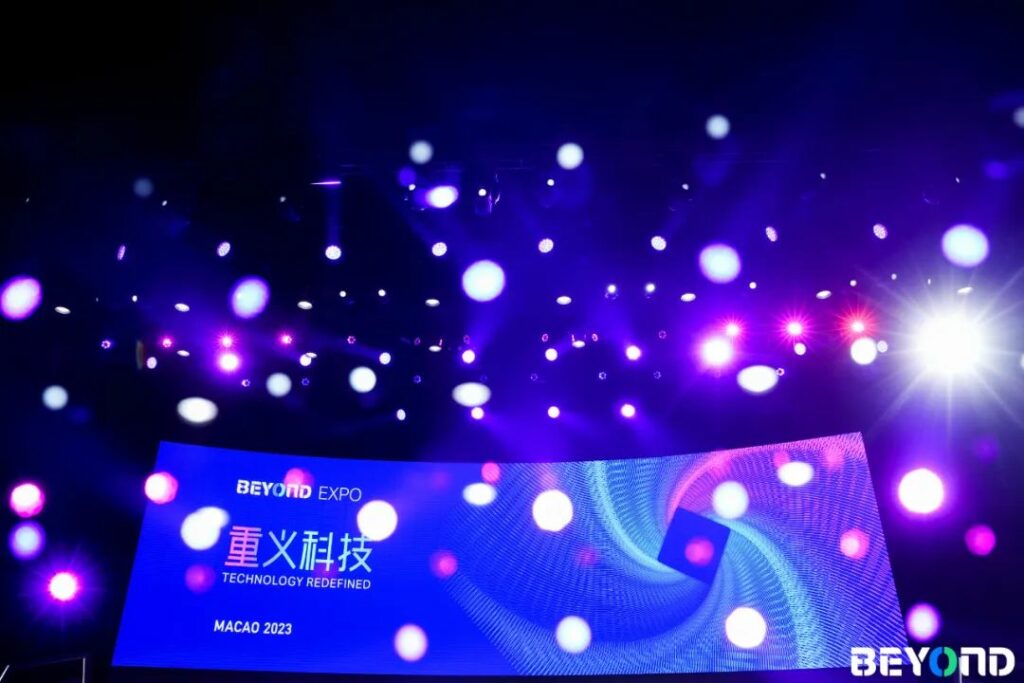 The 3rd BEYOND International Science and Technology Innovation Expo (BEYOND Expo 2023) concluded successfully on May 12 at the Venetian Macao Convention and Exhibition Center. The theme for this year's expo was "Technology Redefined."
The three-day event attracted over 600 companies, of which 30% were overseas exhibitors, while more than 30,000 people participated in the expo. Some 200 media representatives from reputed media outlets — including Central Radio and Television Station, CGTN, CNN, Yahoo, Bloomberg, Reuters, TechCrunch, Engadget, South China Morning Post, Tencent Technology, Sina Technology, Phoenix Technology, Macao Daily and Macao News — attended the events and reported about BEYOND Expo 2023. As the largest science and technology fair in Macao, BEYOND Expo 2023 reached new heights in terms of participation, exhibition area and international exchange.
BEYOND Expo 2023 continued to focus on BEYOND's three sub-brands — Sustainability, Healthcare and Consumertech — setting up independent exhibition areas and hosting industry summits to promote exchanges in various sectors. BEYOND Expo 2023 set up an exhibition area of nearly 100,000 square meters at the Venetian Macao Convention and Exhibition Center, creating a splendid stage for innovative enterprises in the fields of consumer technology, healthcare and sustainability. Meanwhile, the expo also provided exhibitors with professional product display platform, brand promotion, cooperation and docking solutions.
●Science and technology innovation leaders gathered in Macao to discuss "What's Next" — Looking forward to the future development of technology
On the first day of BEYOND Expo 2023, world-class scientists, leaders from various industries and other distinguished guests attended the opening ceremony to promote industrial development driven by scientific and technological innovation. Jason He, co-founder of BEYOND Expo, delivered the opening remarks at the conference, followed by addresses from Ho Yicheng, chief executive of the Macao Special Administrative Region, Wan Gang, President of China Association for Science and Technology (CAST), and Wang Weizhong, governor of the Guangdong Provincial People's Government.
The BEYOND organizing committee invited prominent personalities to discuss on the theme of the opening ceremony — "What's Next? — explore the forefront of science and technology innovation industry, stimulate the value chain of science and technology innovation, and jointly look forward to the future of science and technology innovation around the world. The panelists included Jin Liqun, president and chairman of the board of directors of the Asian Infrastructure Investment Bank, vice chairman of the China Association for Science and Technology, executive vice president and professor at the University of Science and Technology of China, dean of the Institute of Quantum Information and Quantum Science and Technology Innovation of the Chinese Academy of Sciences, academician of the Chinese Academy of Sciences; academician Pan Jianwei of the Academy of Sciences of Developing Countries; Andrew Sheng, chief advisor of the China Banking and Insurance Regulatory Commission, former chairman of the Hong Kong Securities Supervision Commission and advisor to the chief executive of Hong Kong on Economic Quality and Sustainable Development; Kishore Mahbubani, founding dean of the Lee Kuan Yew School of Public Policy, University of Singapore and former president of the United Nations Security Council; Joe Tsai, co-founder and executive vice chairman of the board of directors of Alibaba Group, NBA Brooklyn Nets Team and owner of the WNBA New York Liberty Team.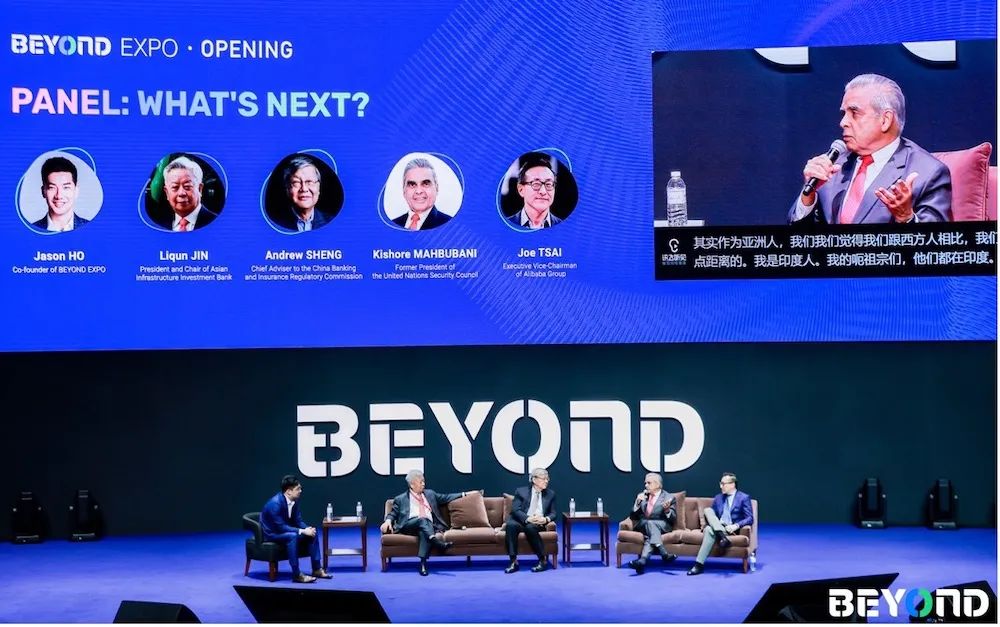 At the end of the opening ceremony, Jason He, co-founder of BEYOND Expo, invited several guests back on the stage for an interactive round-table forum on the latest challenges in the science and technology sectors. The discussions focused on the "competition and cooperation between the East and the West," with the experts saying "cooperation can produce win-win results." They also talked about the impact of artificial intelligence and robots on human beings and the future development and opportunities of the global economic situation. The participants concluded that joint cooperation was the driving force for future development of science and technology development.
Kishore Mahbubani talked about the "new CIA" — China, India and ASEAN countries, and the integration of their economies.
Jin Liqun pointed out that although there were some cultural differences and competition between China and India, both sides are members of certain Asia-Pacific economic organizations and can use these platforms to cooperate and develop together. When it comes to the future global economic situation, he believes that the Chinese RMB is playing an increasingly important role in global payment.
Andrew Sheng said that China, India and ASEAN nations have ancient civilizations, and them sharing Western science and technology has promoted the economic revolution, which Kishore Mahbubani agreed. Shen believes the importance of  increasing dialogue and cooperation between Asian countries, which also includes the synergy between the Greater Bay Area (GBA) and the entire ASEAN.
Joe Tsai talked about strengthening exchanges and cooperation between people in the fields of sports, science and technology, and culture. He emphasized that such exchanges should not only be limited to the East and the West but also includ communication between Asians.
In addition, the guests also talked about how artificial intelligence was increasingly replacing jobs done by humans. However, Cai Chongxin said that it is very difficult to replicate certain human emotions and feelings, and robots cannot replace humans because machines do not have complex interpersonal relationships as people do. All guests concurred that all countries should work together to formulate a set of rules to help humans better manage and use artificial intelligence.
●Various blockbuster new products released, wonderful collision of scientific and technological innovation
During the New Product Release event, AEROFUGIA, XAG, Shanghai Changing Biotechnology Co. Ltd., iFLYTEK and China State Construction International Holdings Limited(CSCI) showcased their innovations.
CSCI released three new products: Light A, C-SMART smart site management platform and Hailong original concrete module residential products.
AEROFUGIA released the AE200. As a pure electric vertical take-off and landing vehicle (eVTOL), the 5-6 seater meets the requirements of zero emission, low noise and high frequency business operations within and between urban agglomerations.
XAG unveiled the P100 Pro agricultural unmanned aircraft, which is powered by electricity and can help agricultural producers to sow seeds and spray fertilizers in a more efficient, easy and environmentally friendly way.
Shanghai Changing Biotechnology Co. Ltd. has released a series of professional applications of kluvitin[3]  and innovative alternative dairy products. This series of products are based on biotechnology to create microbial proteins and biosynthetic dairy proteins, efficiently utilize limited earth resources and realize unlimited nutritional potential.
iFLYTEK released iFLYTEK Hear-Write, aiming at improving office efficiency and creative quality. iFLYTEK Hear-Write is an AI writing assistant, which can provide AI writing, abbreviation expansion, rewriting and polishing, error correction and proofreading, manuscript translation and other services in news writing, document writing, marketing promotion, program planning and other assignments.
●The heavyweight guests in the frontier trend field participate, jointly discuss hot topics in scientific and technological innovation
This year, the BEYOND organizing committee created six stages — T, S, C, H, O and D — at the Venetian Macao Convention and Exhibition Center. The stages hosted four major industry summits around investment and financing, consumer technology, sustainable development and life sciences. Global scientific and technological innovation leaders, well-known experts, entrepreneurs and representatives of international organizations were invited to discuss current hot topics in the industry, share industry trends and demonstrate the influence of science and technology to global participants. The aim was to explore new ideas for the development of various industries and promote industrial development and change.
The organizing committee received a statement from the United Nations Secretary-General on the theme of "The Role of Science and Technology and Innovation in Achieving the United Nations Sustainable Asian Development Goals." The statement called for building a sustainable and just digital future in Asia and the world together.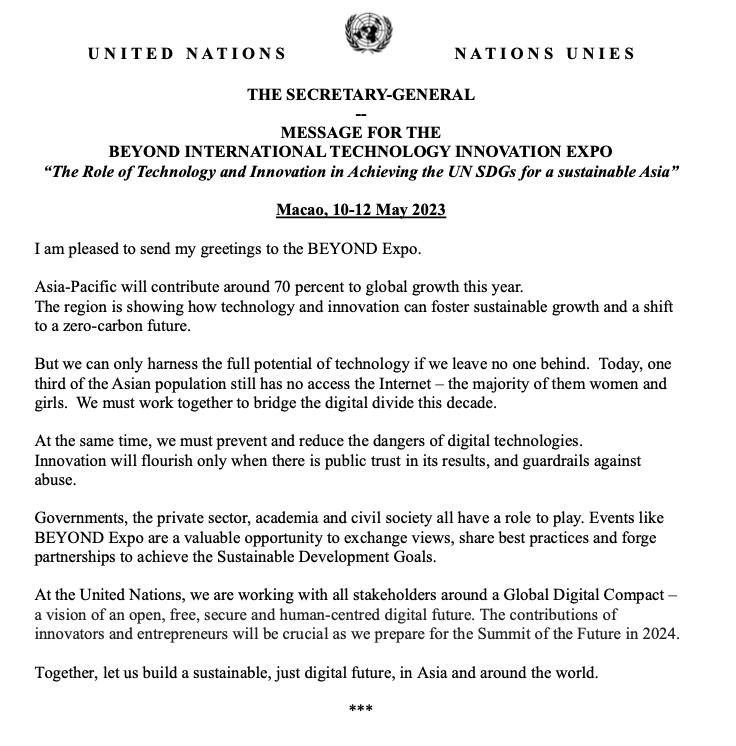 On May 11, the BEYOND organizing committee held an international investment and financing summit at Stage T. Under the chairmanship of Carol Yu, founding partner and vice president of Shenzhen Maker College, and Li Xiaojia, founder and chairman of MICRO CONNECT Group, it launched a profound discussion of the development and future of Chinese small and micro enterprises. Li Xiaojia said that MICRO CONNECT Group, through ASX Exchange, is essentially no different from the Hong Kong Stock Exchange, New York Stock Exchange and SGX. However, it uses the third method, after the two traditional methods of selling listings/IPOs and selling bonds, taking the future income of small and micro enterprises as a target for financing. Subsequently, through nine thematic talks, a number of top investors and well-known representatives from the industry also shared their latest exploration and in-depth outlook on the current wave of capital frontiers. They shared their own investment experience and enterprise investment strategies on topics such as the development and trends of various industries, investment directions, and grasping future investment opportunities. They also explored partnership opportunities at the BEYOND Expo to jointly expand the investment market, empower enterprises to transform and grow rapidly, help industrial development and promote high-quality economic development.
In the field of sustainable development, BEYOND organizing committee and China Architecture International, the exclusive strategic partner for sustainable development, meticulously created a three-day Sustainability Summit at Stage S. On the first day, Tshilidzi Marwala, deputy secretary-general of the United Nations and president of the United Nations University, addressed the opening of the summit. Saifur Rahman, chairman of the IEEE, and Song Yonghua, president of the University of Macao, were also invited to discuss "Post-epidemic Era – Asia's Challenges and Opportunities to Respond to Global Climate Challenges." A conference on new products and cases of innovative construction technology was jointly held with China Construction International Group. Enterprises such as China Construction New Industry Group and China Construction Hailong showed their innovative products to the public. The following day, companies from China Water Environment Group, Towngas and Huawei participated in discussions on sustainable development. On the third day, we held a large enterprise innovation summit forum, inviting executives from large enterprises such as Microsoft accelerator, Fuji (China), Sands China, Swire Properties, and Iron and Steel to discuss the future of large enterprise innovation and development. The three-day meetings provided more ideas and impetus for innovation in the field of sustainable development.
The BEYOND Organizing Committee joined hands with China Taiping, the exclusive strategic healthcare partner, to jointly set up the Healthcare Summit at Stage H. Academician Zhao Yupei, president of the Chinese Medical Association, delivered a speech at the Healthcare Summit on the first day, followed by in-depth discussions and sharing by senior executives from leading enterprises in the field of healthcare , such as AstraZeneca, Liantuo Biology, Abbott, Edward, Renaissance Medicine, Lizhu Biology, and others. One the second day, deputy director Zhao Junning of the State Drug Administration, director Luo Yilong of the Macao Health Bureau, director Cai Bingxiang of the Macao Drug Administration, deputy director Wang Ling of the Guangdong Provincial Drug Administration and deputy director Wu Guoliang of the Macao Drug Administration attended the Guangdong-Hong Kong-Macao Greater Bay Area Drug Medical apparatus Innovation and Development Forum held at the Healthcare Stage, and the participants jointly witnessed the development of the healthcare industry in the Greater Bay Area. On the last day, a seminar on anesthesia and healthcare was held in conjunction with the Chinese Medical Association. The three-day summit brought together high-end talents from government entities, leading healthcare enterprises and hospitals, injecting new impetus into the development of the life science field.
The BEYOND organizing committee jointly hosted the ConsumerTech Summit in Stage C in conjunction with its exclusive strategic partner, ICBC Macau. The three-day ConsumerTech Summit was launched around "AI +." The first day, which kicked off with the Web3 Summit Forum, was attended by corporate executives from institutions and companies such as Unity, CMC Capital, Lingfeng Capital, Alibaba Cloud, Industrial and Commercial Bank of China, Macau Tong, and others. The second day discussions focused on AI + "smart life" and "new retail technology," with enterprises such as Nothing, Microsoft accelerator, Tezan, Mekamand, Boolvectors, and others joining in. The third day saw cooperation with Shenzhen automatic driving research center on the "AI + future travel" event to discuss future development together with future travel enterprises.
Stage O hosted a number of thematic activities during the three-day event, including the "Greater Bay Area Entrepreneur Future Exploration Conference," "Green Opportunities – Greater Bay Area Sustainable Innovation, Youth Entrepreneurship and Talent Cultivation in the Field of Sustainability" and "Focus on Southeast Asia – ORIGIN Summit Forum." These activities focused on the Greater Bay Area and Southeast Asia to explore a better future from multiple perspectives such as entrepreneurship, talent, and sustainable innovation. During this period, the participants included experts and entrepreneurs from all walks of life to discuss the future development direction and trends.
At Stage D, the China Building Green Building Forum held discussions on cutting-edge technologies in the field of green building and the latest trends in sustainable development.
●Gather the latest scientific and technological achievements and technologies in Macao, explore future new directions of innovation and technology
BEYOND Expo 2023 set up an exhibition area of nearly 100,000 square meters at the Venetian Macao Convention and Exhibition Center, which included events for its three major sub-brands. The exhibition area brought together 600 + exhibitors from the world's top 500, large multinational enterprises, unicorn innovative enterprises and new start-ups.
The ConsumerTech exhibition area attracted companies such as Macau Telecom Co. Ltd., Macau Connect joint stock company, Alibaba Cloud, Pakistan-Portugal Exhibition Group, Huawei, GIMI, Extreme Version, COWA Technology, Lenovo, MINDEO Group, Mushroom Vehicle Union, NBA, SenseTime, Shenzhen automatic drive Intelligent Research Center, Xidi Smart Drive, XPENG AEROHT, NIP Group, eHang, Industrial and Commercial Bank of China (Macau), Bank of China Macau Branch, Zhuhai Advanced Integrated Circuit Research Institute and others. The exhibition area had booths to jointly promote the high-quality development of cutting-edge technologies and comprehensively display the cutting-edge technologies and research practice achievements of various companies for global participants.
The Sustainability exhibition area attracted companies including Brick, Deloitte, Fujifilm (China) Investment Co. Ltd., XAG, Langchao Group, Mushroom Biology, Nam Kwong (Group), Payboy Limited, QCRAFT, Shanghai Changjin Biotechnology Co. Ltd., China Construction International Group Co. Ltd., China Water Environment Group, China Civil Engineering (Macau) Co. Ltd. and others. The companies participated in the exhibition to promote global innovation and sustainable development in various fields.
The Healthcare exhibition area included enterprises such as Fosun Pharma, Guangdong the Greater Bay Area (GBA) Collaborative Innovation Research Institute, Guangzhou Taihe Medical Science and Technology Innovation Center, United Family Medical, XtalPi, Biomedical Big Health Enterprise Exhibition, China Taiping Insurance Group Co. Ltd. and others. The companies shared cutting-edge research and phased practice results in the field of life science, and promoted the integration and development of science and technology and medical industry.
●Focus on the development of global investment and financing, build an innovative and efficient docking platform
With the continuous improvement in epidemic prevention and control, this year's DEMO DAY became more international. Innovative entrepreneurs from all over the world traveled for an innovation roadshow to showcase latest scientific and technological innovations and ideas. This year's DEMO DAY brought together TusStar, Brazil-Portugal innovative enterprises, Tsinghua University alumni, as well as other investment and financing matchmaking events. In addition, a series of sustainable development, healthcare and consumer tech activities were also held, connecting hundreds of enterprises. Some150 well-known investment institutions and investors provided a platform for innovative enterprises and investment institutions in various fields to exchange, connect and negotiate.
Lounge II integrated the elements of scientific and technological innovation, as well as globalization. BEYOND held activities with partners from Britain, South Korea, Japan, Thailand, Indonesia, Brazil, Portugal and other countries. During the three-day event, we jointly discussed the current situation and future development trends of scientific and technological innovation in various countries, shared their experiences and success stories, while promoting international cooperation and innovation.
●Successfully held the BEYOND Awards Ceremony, gather the strongest scientific achievements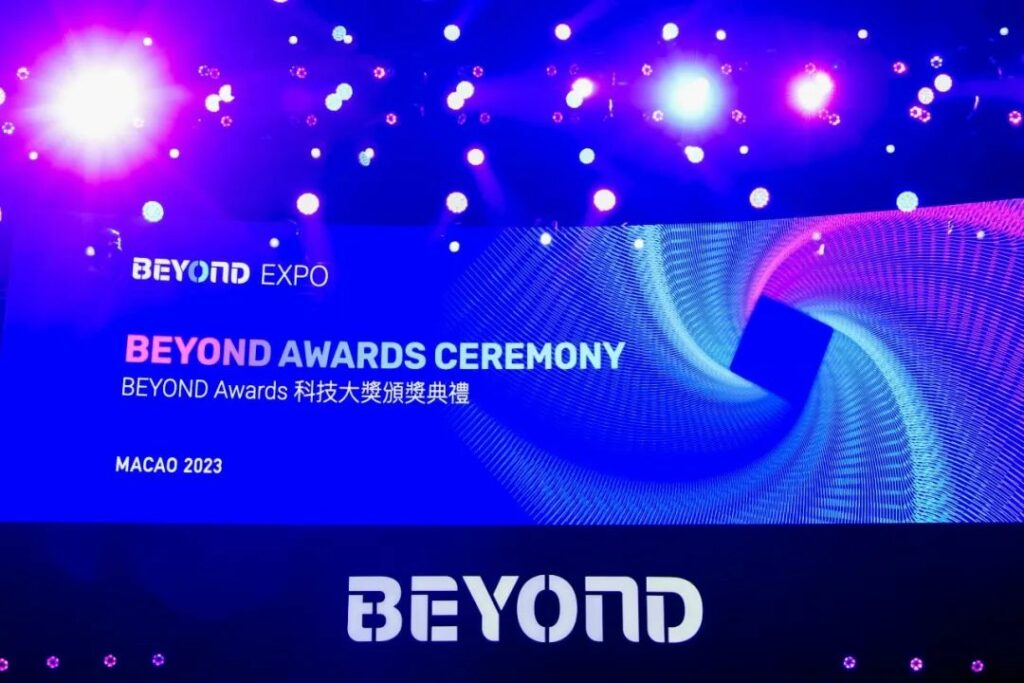 BEYOND Awards 2023 included the BEYOND Innovation Award and the BEYOND Impact Award. BEYOND Awards honor the products and services of individuals or technology companies with outstanding performance and social influence in various industries. They include Healthcare Innovation Award, Sustainable Development Innovation Award, Consumer Tech Innovation Award and Impact Award. The awards show the infinite possibilities of scientific and technological innovation and influence in all walks of life around the world. The selection team of the organizing committee announced the winners after several months of judging on May 12.
●Beyond Innovation Awards: Sustainability
●Beyond Innovation Awards: Healthcare
●Beyond Innovation Awards: Consumertech
●Beyond Impact Awards 2023
●Beyond Pool Party
BEYOND held its first pool party at the Venetian Theatre this year. There was music, cocktails, and a slice of Macao culture for everyone to and socialize and enjoy. In addition, BEYOND also joined hands with MLCO and UBS to plan "BEYOND the Future" audio-visual party. Bassjackers, listed as the world's Top 100, mesmerized partygoers with their music. 
Gang Lu delivered a speech after the BEYOND Awards ceremony.
"It's only been one and a half years from the first BEYOND Expo to the third, and we have experienced many difficulties in the past three sessions. This year, we can tell you that BEYOND Expo 2023 is closer to the BEYOND we originally envisioned. In the first year, we hoped BEYOND to be an international platform. We hoped to gather the best innovations from Asia, help Chinese companies expand overseas markets, and help global companies come to the Asian market. This year, we have prepared two parties for everyone; the design of the entire conference has also changed greatly compared with the first year, and the atmosphere is more international. This year we have invited several media, and we very much welcome media from the Chinese mainland to come to Macao to report on innovation. We also sincerely hope that more international media can come to Macao and BEYOND to report on Asian innovation and Chinese innovation. We have done it, these are our great improvements this year. This year we have a lot of stages and sections, including different topics every day, different entrepreneurs from all over the world, community leaders, and partners are sharing different industrial cultures, different ecology, and different entrepreneurial experiences."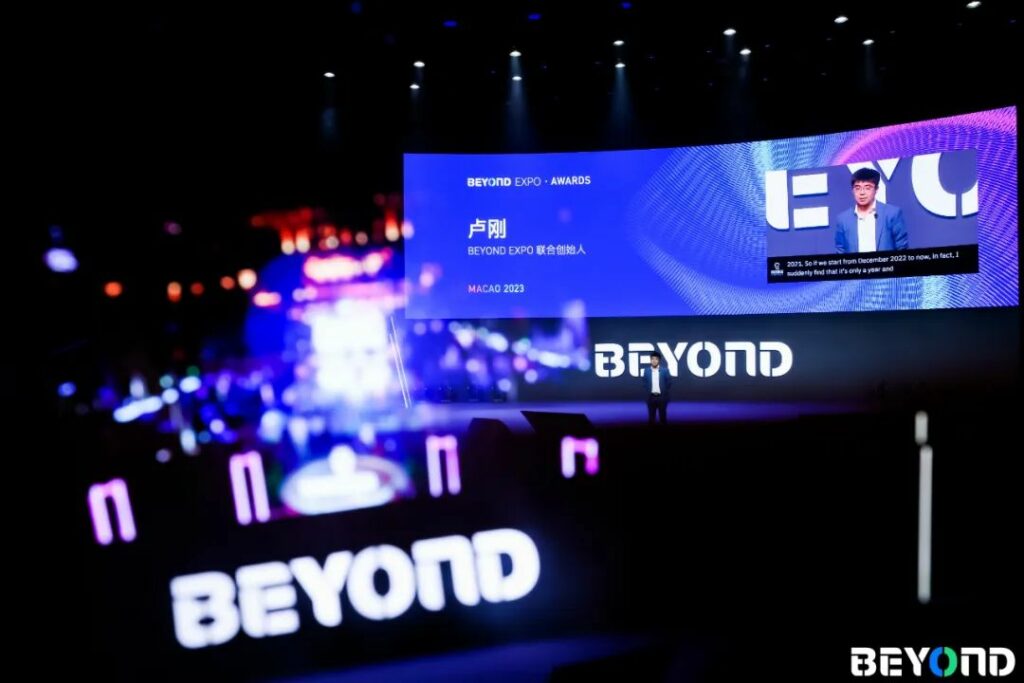 The 3rd BEYOND International Science and Technology Innovation Expo has concluded successfully. See you next year!