On May 10, 2023, BEYOND Expo 2023 opens at the Venetian Macao Convention and Exhibition Centre, Macao. After two successful sessions, BEYOND Expo has already become one of the largest and most influential international technology exhibitions in Asia, and it has received an accumulated number of 800 exhibitors. More than 500 innovation leaders in the business circle will become the guest speakers of this event. The number of audiences presented at the venue is expected to exceed 55,000. Also, over 150 industry forums will be held, successfully showcasing this expo as an international platform for technological exchanges.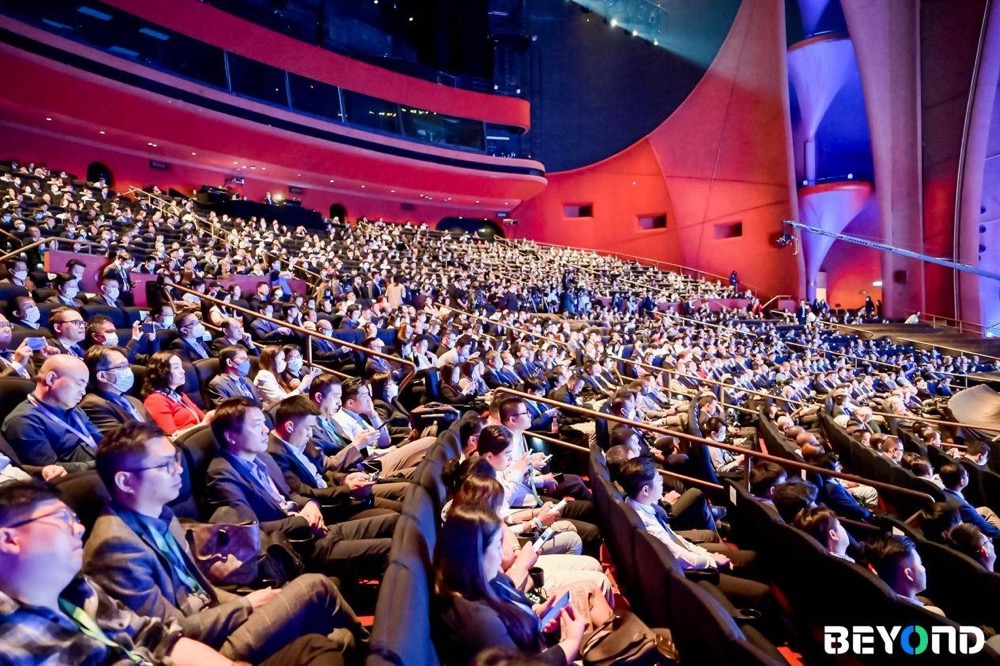 This Expo is a top technology event in the Guangdong-Hong Kong-Macao Greater Bay Area for the year 2023. A great many of technology giants like Huawei and iFlytek will showcase their latest outcomes and technological applications in this event. Soon after the product launch of SparkDesk, a large language model, iFlytek embraced a stock limit-up on the first working day. In this BEYOND Expo, iFlytek brings not only its signature products like translating machine, recording pen, and microphone but also a large model application of iFlytek AI learning machine, a software product of "iFLYREC AI Writer", and "AI Writer" associated iFlytek Smart Omnidirectional Microphone M2. Furthermore, iFlytek declared a scheduled release of a smart office product called "iFLYREC Hub Generation 2".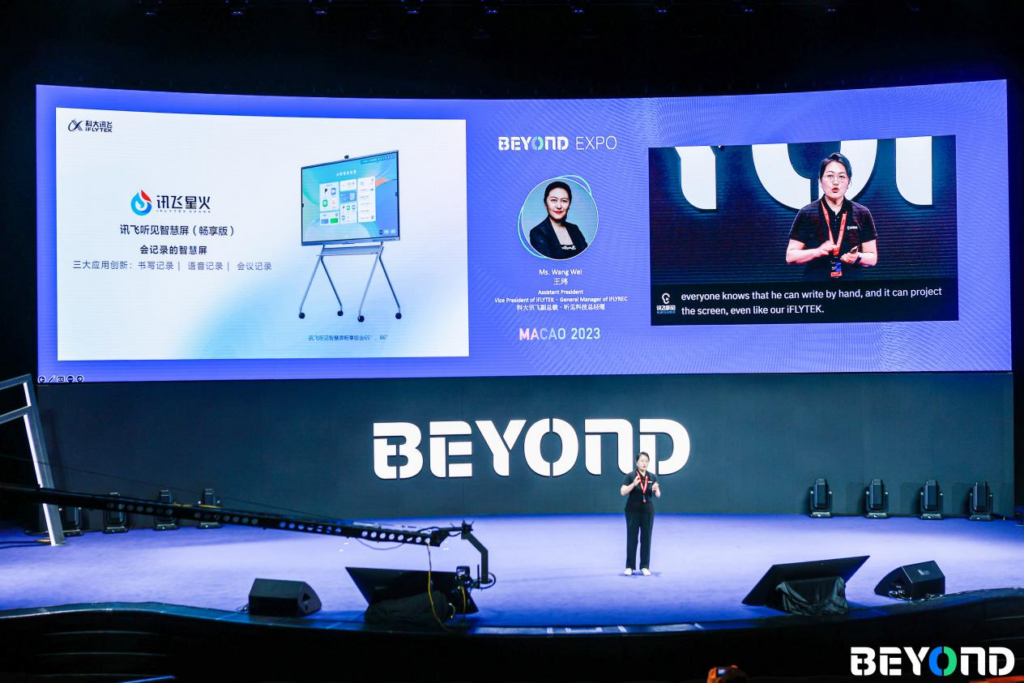 (Photo: Wang Wei, VP of iFlytek, introduced "iFLYREC AI Writer" at the product launch press conference. It will be provided after commencement of the activity.)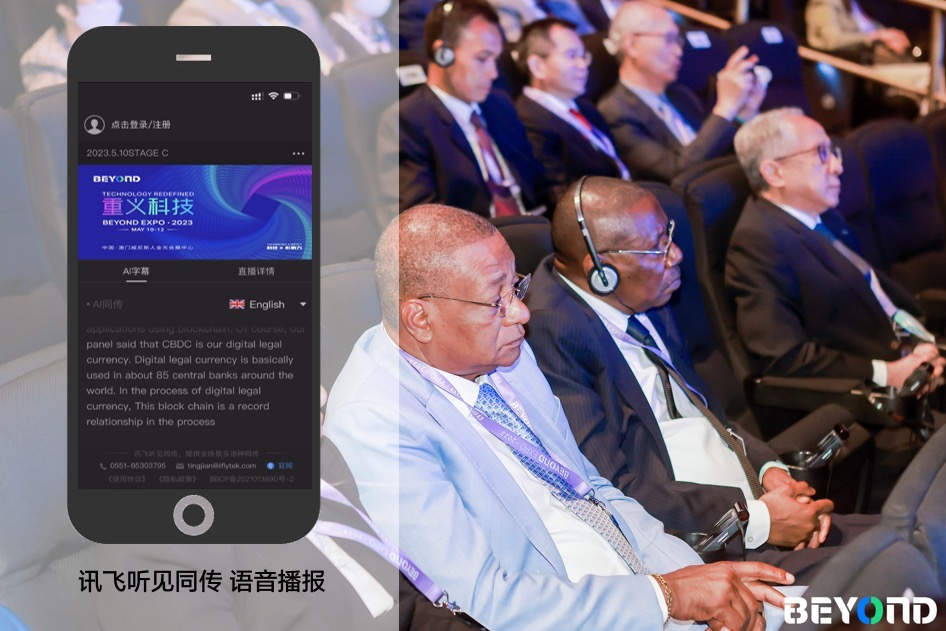 (Photo:iFLYREC Simultaneous Interpretation Voice Broadcast Service)
Experiencing AI Script Writing on the Spot, the Journalists Got the Headline News
As a technological application product related to GPT in China, iFLYREC AI Writer, an intelligent web-page application, has attracted wide attention. The capability of iFLYREC AI Writer for "AI Generating a Well-structured Script of Meeting Minutes with a Single Click" amazed the journalists at the product launch. This product benefits the improvement of the content production efficiency of media specialists and facilitates universally applicable workplace communication. iFLYREC AI Writer automatically generates meeting minutes, work agency, and work plans based on the AI analysis of the contents of audio files, and supports AI dialogs and content traceability based on the source text. Soon after Liu Qingfeng, Chairman of iFlytek, introduced the large language model at the product launch on May 6, iFLYREC AI Writer wrote a newsletter immediately.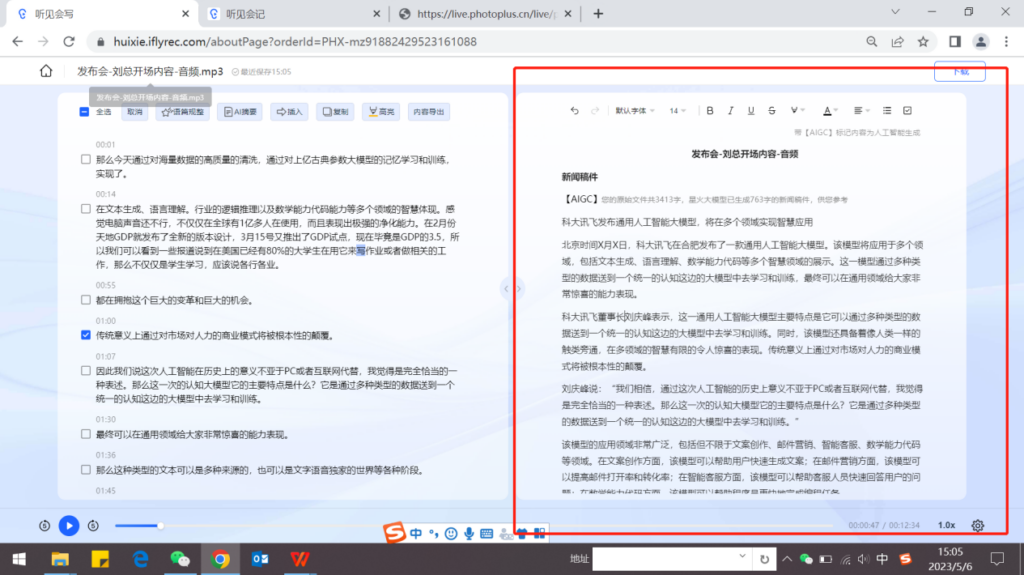 (Figure: A newsletter from iFLYREC AI Writer for the product launch of iFlytek)
At BEYOND Expo 2023, some journalists indicates, "We have the headline news for today's activity!" after experiencing the function of "Generation of A Script with a Single Click" provided by iFLYREC AI Writer on the spot.
Focusing on the Guangdong-Hong Kong-Macao Greater Bay Area, iFLYREC enables the barrier-free communication between the Greater Bay Area and the Chinese Mainland with AI
English and Cantonese are the common languages used in Macao, while Chinese Mandarin is mainly used in the Chinese mainland. This shows different language habits in different regions. With the continual development of economy and culture, the communication and cooperation between Hong Kong, Macao and Chinese mainland has been further deepened, and barrier-free communication becomes a key bridge that enables a better understanding. As a well-known AI and voice enterprise in the Asia-Pacific Region, iFlytek has been dedicated to fostering multilingual barrier-free communication for many years.
As a benchmarking application of voice transcription and translation of iFlytek, iFLYREC APP has already attracted 55 million users. The APP supports transcription and translation services for Cantonese and more than ten other languages. During the National People's Congress and Chinese People's Political Consultative Conference in 2023, iFLYREC APP was applied by media like Ta Kung Pao to record the conference highlights efficiently and generate scripts more quickly. At the same time, iFLYREC Subtitling can be applied to add AI subtitles to Cantonese videos instead of the labor-consuming manual subtitling and time-coding. Therefore, the news express becomes more efficient.
As a necessary screen translation service for top summits, iFLYREC Simultaneous Interpretation provides users with simultaneous interpretation services for 9 languages at the client end. Also, this function supports the compatibility with a variety of remote video conference software and the real-time bilingual subtitle translation in conference communication so that multilingual barrier-free communication can be realized during in-person conferences and teleconferencing. iFLYREC Simultaneous Interpretation has provided simultaneous translation services for Macao Polytechnic University, Fuhong Society of Macau, The Hong Kong Polytechnic University, and HKSTP.
Seeing the layout of global business in the Guangdong-Hong Kong-Macao Greater Bay Area, iFLYREC is determined to further globalize its software
According to relevant officer in charge of iFLYREC, iFlytek has accelerated its expansion of international business. In addition to BEYOND Expo 2023, iFlytek has become a standard voice transcription and translation supplier for international competitions, including Beijing Winter Olympics, World Team Table Tennis Championships Finals Chengdu, and Chengdu 2021 FISU World University Games (scheduled in July this year). It is expected that barrier-free communication and higher communication and work efficiency in competitions will become a business name card of Chinese AI enterprise. As for the layout in the customer market, "Voiter Notes", the Japanese version of iFLYREC APP, has already been launched in the application market of Japan as early as 2021. This product supports Japanese-English transcription services, and has created a precedent for Chinese AI enterprises to go global.