The BEYOND Expo 2023 kicked off in Macao on May 10 with the theme "Technology Redefined." The three-day expo will focus on showcasing and discussing technologies related to consumer technology, healthcare, and sustainability. The event will also feature multiple international investment and financing summits, as well as startup roadshows, providing a platform for emerging players in the industry to showcase their innovations.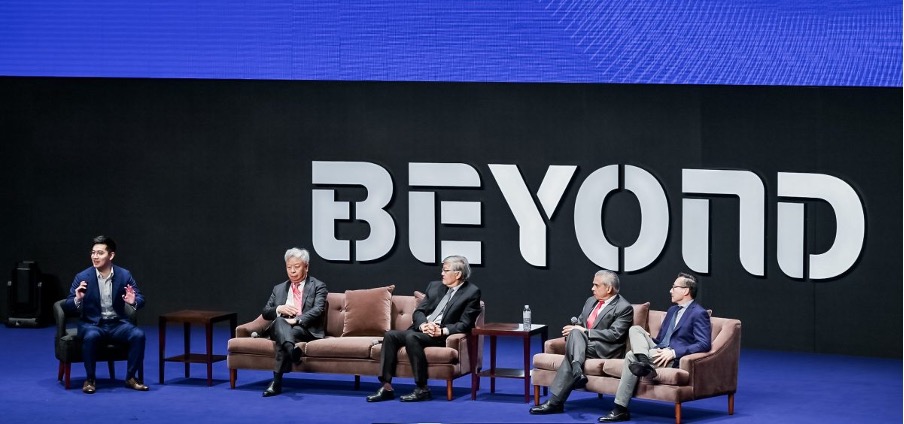 The BEYOND 2023 opening ceremony on Wednesday morning saw government officials, executives and leaders from technology and finance industries gathering in Macao, where they discussed the role of technology to empower various industries in the future.
Here are some key takeaways from the opening ceremony speakers:
1.Jin Liqun, President and Chair of Asian Infrastructure Investment Bank (AIIB)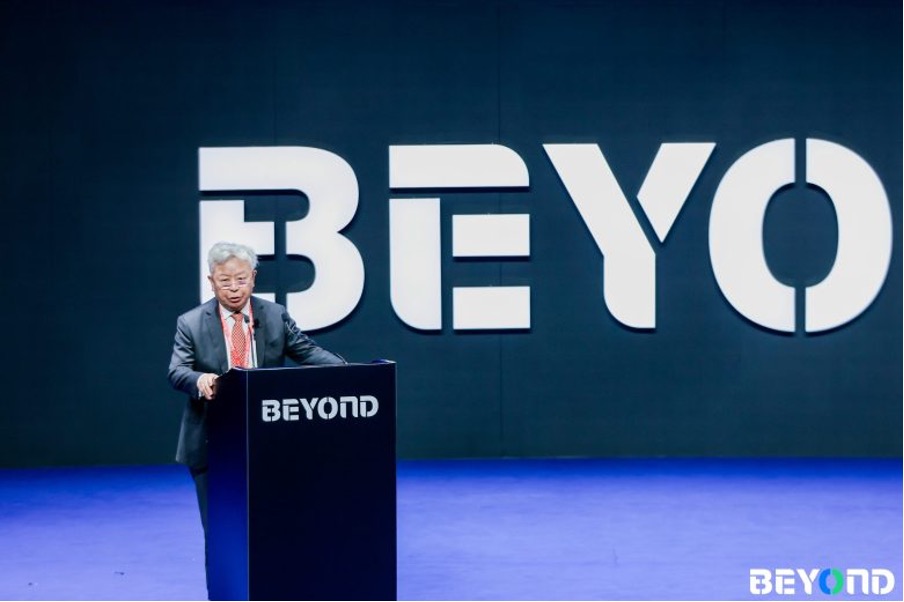 Jin Liqun, President and Chair of Asian Infrastructure Investment Bank (AIIB) Credit: BEYOND Expo
"At this Expo, I see the dream of a more inclusive Asia, particularly, a more financially inclusive Asia," Jin said. He also emphasized that AIIB's financial services can "make it possible for people to climb out of poverty by obtaining credit, to invest in their education, to take out insurance, to run the business, and to weather the shocks of the changing climate."
Moreover, Jin sees digital access as a key threshold to keep people connected and resilient. AIIB prioritizes two types of infrastructure investment. The first is infrastructure development that supports the expansion of the digital economy, such as 5G towers and fiber cables. The second is digitalizing existing infrastructure into smart infrastructure. "That means we are thinking not just towers and data centers but smart cities, smart growth, smart roads, and smart vehicles."
2.Jian-Wei Pan, Academian of Chinese Academy of Sciences, Quantum Physics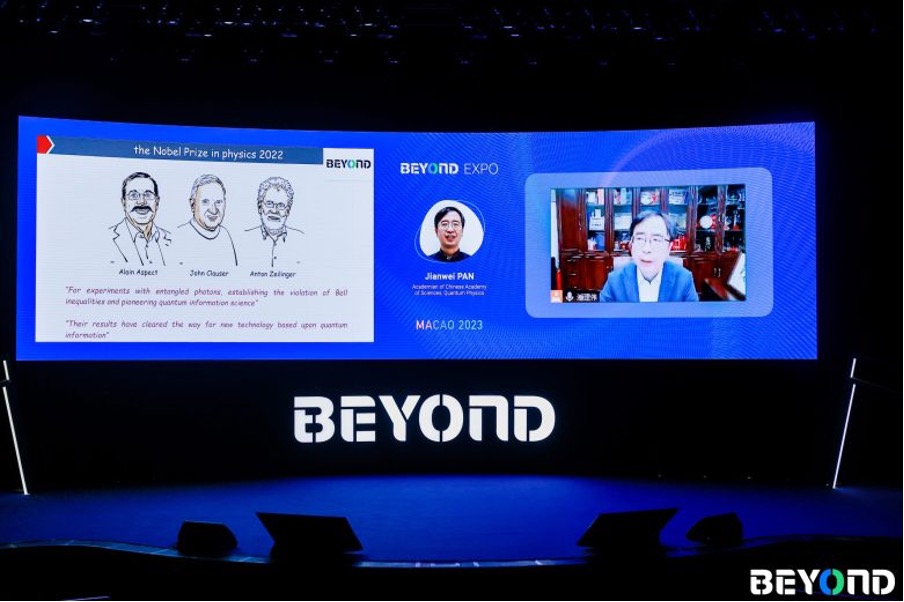 Jian-Wei Pan, Academian of Chinese Academy of Sciences, Quantum Physics Credit: BEYOND Expo
Chinese quantum physics expert Jian-Wei Pan explained China's efforts in quantum communication and quantum computing. Pan believes that China still needs a long time to make progress in popularizing quantum computing. However, after nearly 20 years, Chinese scientists successfully developed the world's first quantum science satellite, Micius, which was launched in August 2016. In addition, in September 2017, China's long-distance fiber-optic quantum communication backbone network, the Beijing-Shanghai National Quantum Communication Backbone, was officially opened. Micius and the Beijing-Shanghai Backbone helped China preliminarily test the hypothesis of building a wide-area quantum communication network and prove in principle that "a unified quantum network is feasible."
"To achieve a generalized quantum communication network, we can use optical fibers to build quantum communication between major cities, use quantum relays to achieve quantum communication between cities, and further use the quantum satellite platform to achieve long-distance quantum communication," Pan said.
3.Andrew Sheng, Chief Adviser to the China Banking and Insurance Regulatory Commission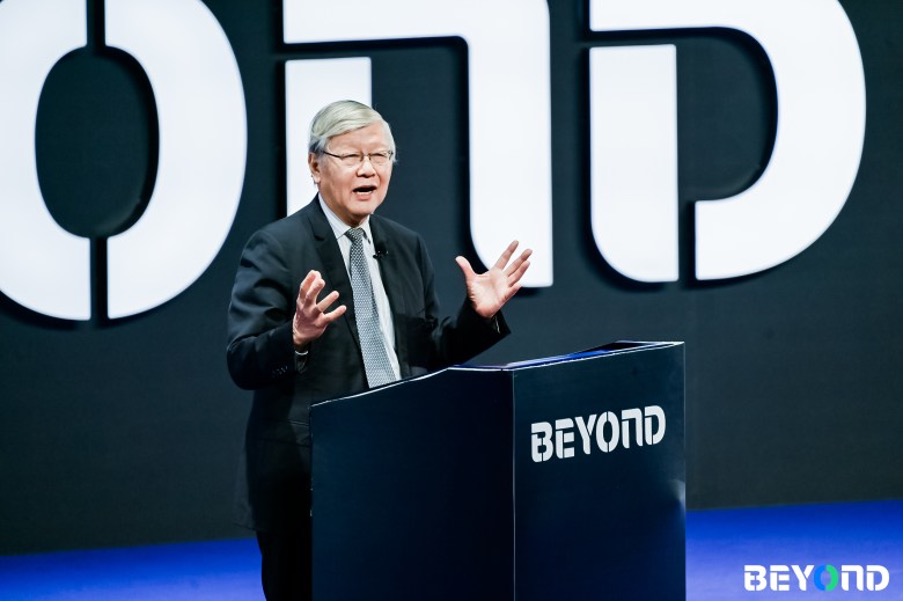 Andrew Sheng, Chief Adviser to the China Banking and Insurance Regulatory Commission Credit: BEYOND Expo
In his speech, Sheng touched on both the benefits and challenges AI tools like ChatGPT has posed on society. He said AI will create obstacles for people who are less knowledgeable about tech. "Those who do not understand the technology will be pushed further and further behind. And that is the biggest imbalance that we now face: How do we educate the masses not for the elite for the masses to understand the new challenges of the world?"
4.Kishore Mahbubani, Former President of the United Nations Security Council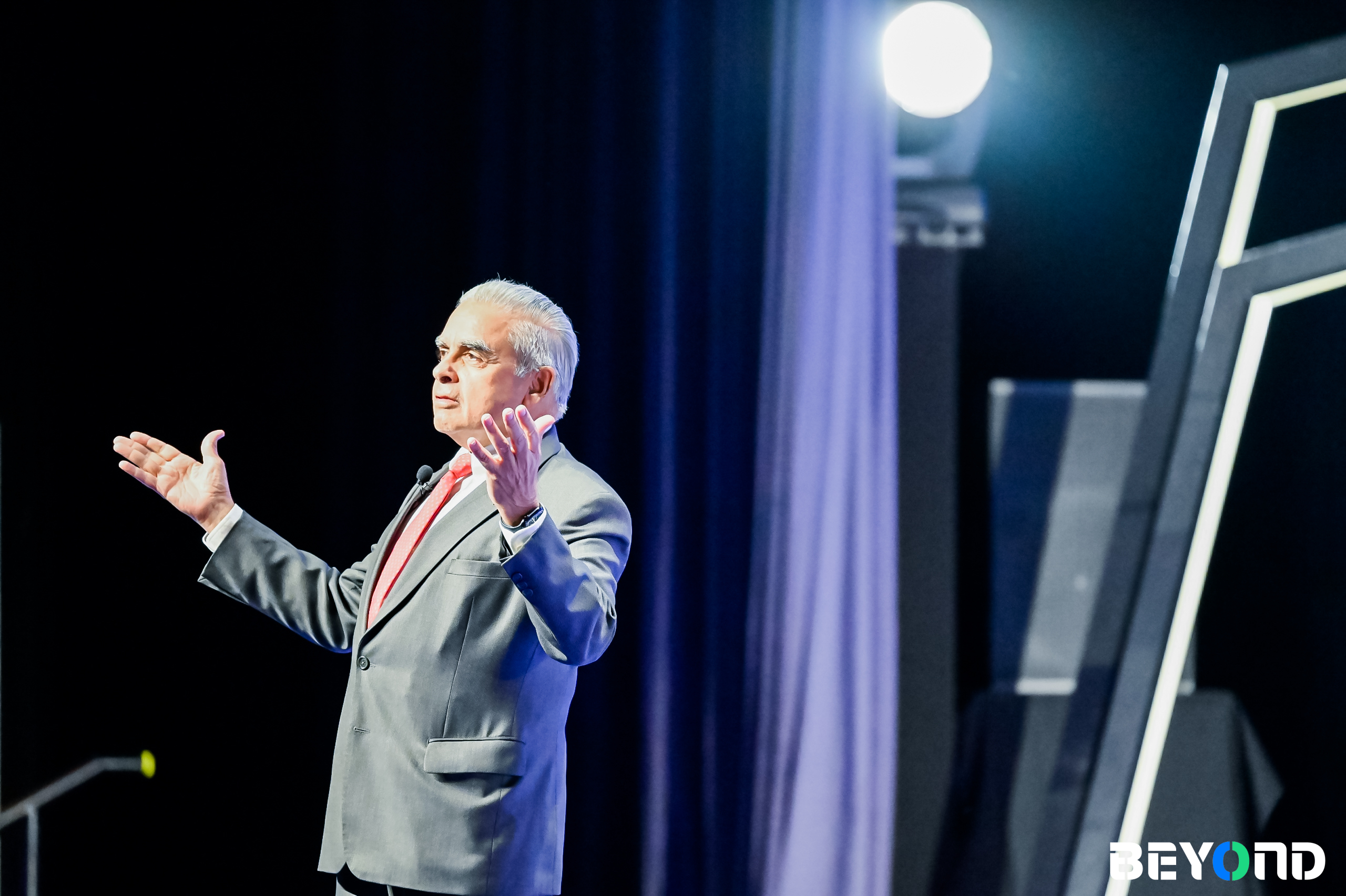 Kishore Mahbubani, Former President of the United Nations Security Council Credit: BEYOND Expo
In his speech, Mahbubani emphasized the rise of Asia and the challenges that come with it. He said that "the 21st century will be the Asian century, just as the 19th century was the European century and the 20th century the American century."
He also coined a new version of the CIA — China, India, and ASEAN (the Southeast Asian regional intergovernmental organization). "If you look at the future of Asia, the growth will be driven by what I call the new CIA. The CIA is not the Central Intelligence Agency. The CIA is China, India, and ASEAN. And remember that — the new CIA. The CIA countries make up 3.5 billion of the world's population. In 2000, out of the 3.5 billion people, only 150 million were in the middle class. By 2020, the number had grown to 1.5 billion and increased 10 times in 20 years, and by 2030, it will grow to three billion people. The middle class is going to drive this growth."
5.Joe Tsai, Co-founder and Executive Vice-Chairman of Alibaba Group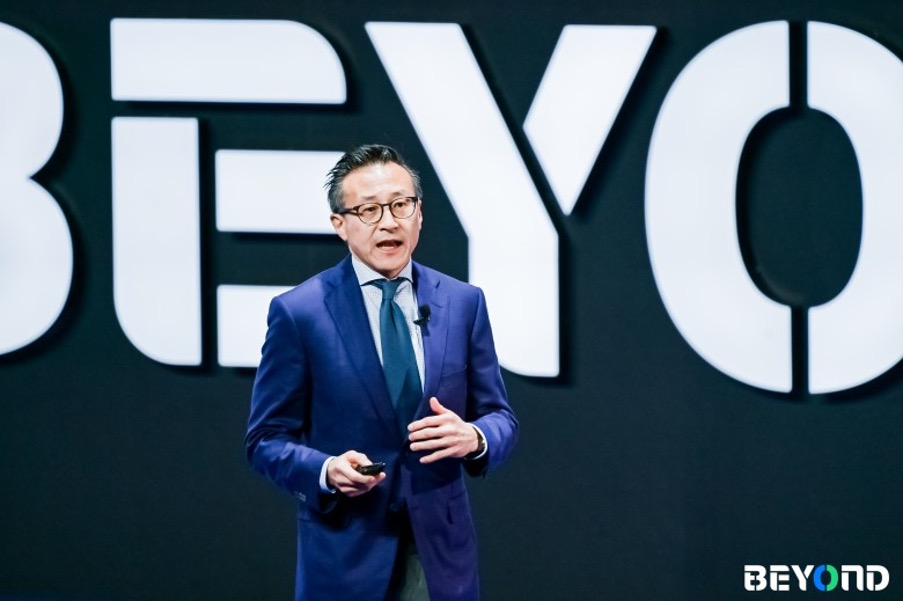 Joe Tsai, Co-founder and Executive Vice-Chairman of Alibaba Group Credit: BEYOND Expo
Alibaba's Joe Tsai shared his thoughts on generative AI and agreed with Macao's effort to transform itself from a city of gaming to entertainment, content, healthcare, sustainability and consumption.
In his speech, Tsai demonstrated an ad featuring an AI-generated actress named Leah, showing the potential of Artificial Intelligence Generated Content (AIGC) and its revolutionary power in the entertainment industry. "With digitization, we can bring together what is a very American sport, like baseball, with someone [AI actress Leah] made in the image of a Chinese actress. And then we can merge the two into a very sort of Chinese American scene of promoting Major League baseball," he added.
He also showed how advanced LED screens can significantly slash the space needed for film shoots and simplify operating logistics. "With LED panels, we can create a studio with very little space. We have a studio in Beijing that's about 2,000 square meters that can handle everything. We have hundreds of thousands of scenes that you pre-create and put onto the screen. It makes shooting a film very easy, so you don't have to go to various film locations." Joe said.
6.Panel discussion
BEYOND opening speakers Jin Liqun, Andrew Sheng, Kishore Mahbubani and Joe Tsai also sat down with BEYOND Expo co-founder Jason Ho for a panel discussion on the latest challenges of tech in society.
Speakers shared their thoughts on the fast-developing AI technology and its challenges to leaders and society at large. Mahbubani echoed concerns about AI accelerating the trend of people being replaced at jobs; Jin Liqun also raised a question whether AI will ever exceed human's capacity to manage the robots? Joe Tsai said he doesn't worry about robots, as he believes in the future evolution of human intelligence. "We actually have not explored how smart the human brain can get. There are 80 million neurons in the human brain and trillions of connections and synapses in the human brain. So there's the potential of the human brain to get smarter and operate at a higher capacity." Tsai said.
All the speakers agreed that countries globally should work together to develop a set of rules to help humans better manage and use AI.
New product release
On the first afternoon of the BEYOND summit, six technology companies announced new products at the event. They are:
China State Construction International released three new products: Light A, C-SMART smart construction management platform and Hailong's original concrete modular residential product. Light A, which mimics the appearance and texture of aluminum panels, can generate electricity while serving as a building facade. C-SMART smart construction management platform uses cutting-edge technologies such as the Internet of Things, sensors, artificial intelligence, cloud computing, BIM, data information and communication technology to create a customized platform for smart, digital and information-based construction site management. Hailong's original concrete modular residential product divides the building into independent modules, completes more than 90% of the construction in the factory, and then quickly assembles them into a building using reliable cast-in-place connection technology, achieving the goal of "building houses like building cars." This technology system ingeniously integrates cast-in-place construction of the frame shear wall structure, making its mechanical properties and building height restrictions equivalent to those of traditional buildings.
Aerofugia, a tech company specializing in aerial mobility, unveiled its new product, the AE200, during the BEYOND Expo. The AE200 is an Advanced Air Mobility (AAM) aircraft designed to meet high-density aerial travel needs of urban areas, with a focus on safety, performance and comfort. The prototype of the AE200 has completed its maiden flight and the certification process is now underway with regulatory authorities. This product is independently developed by Aerofugia, with outstanding capabilities in aircraft, system integration and certification experience in civil aviation.
XAG released the XAG P100 Pro agricultural drone, which is powered by electricity and designed to help farmers complete tasks such as seeding, fertilizing, and pesticide application in a more efficient, eco-friendly, and easy manner. Compared to its previous generation, the P100 Pro has been upgraded in terms of payload, efficiency, control, stability and other aspects, providing users with a more precise, efficient and user-friendly farming experience.
Shanghai Changing Biotech unveiled the Kluvy Protein and the Alternative Dairy Products for Professionals. This product line is based on biotechnology that creates microbial protein and biosynthetic milk protein, which efficiently uses limited earth resources to achieve unlimited nutritional potential. It is sourced from nature, with strains originating from Shangri-La, and the product also uses advanced technologies such as mutation evolution and gene editing to create future food from natural sources.
iFlyrec launched iFlyrec AI Writer to improve office efficiency and quality of work. The iFlyrec AI Writer is an AI writing assistant that provides services such as AI writing, abbreviation expansion, rewriting, polishing, proofreading and document translation in news writing, official document writing, marketing promotion, project planning and other scenarios.
BEYOND summits, programs, and exhibitions
Apart from a diverse range of exhibitors, this year's BEYOND Expo has created six stages and two lounges for global technology and investment professionals to hold various discussions and meetings. The main stages are Stage T (Theater), Stage S (Sustainability)partnered exclusively with China State Construction International Holdings Limited, Stage H (Healthcare)partnered exclusively with China Taiping, and Stage C (ConsumerTech) partnered exclusively with ICBC Macao. In particular, Stage C (Consumer Technology) is partnered exclusively with ICBC Macao and gathers global top technology innovation leaders; Stage H (Healthcare) is jointly established by BEYOND and China Taiping, aiming to explore trending topics in life science and global health challenges solutions; and Stage S (Sustainable Development) is hosted by China State Construction International Holdings Limited, BEYOND's exclusive strategic partner, and will provide cutting-edge solutions for trending topics in sustainable development industries and global challenges.
BEYOND Expo 2023 has set up a nearly 100,000 square meter exhibition area at the Venetian Macao Convention and Exhibition Center, welcoming more than 600 exhibitors from around the world, including Fortune 500 companies, large multinational corporations, unicorn startups, and new early-stage enterprises. The three major exhibition areas — consumer technology, sustainability, and healthcare — have attracted participation from top companies within their respective industries.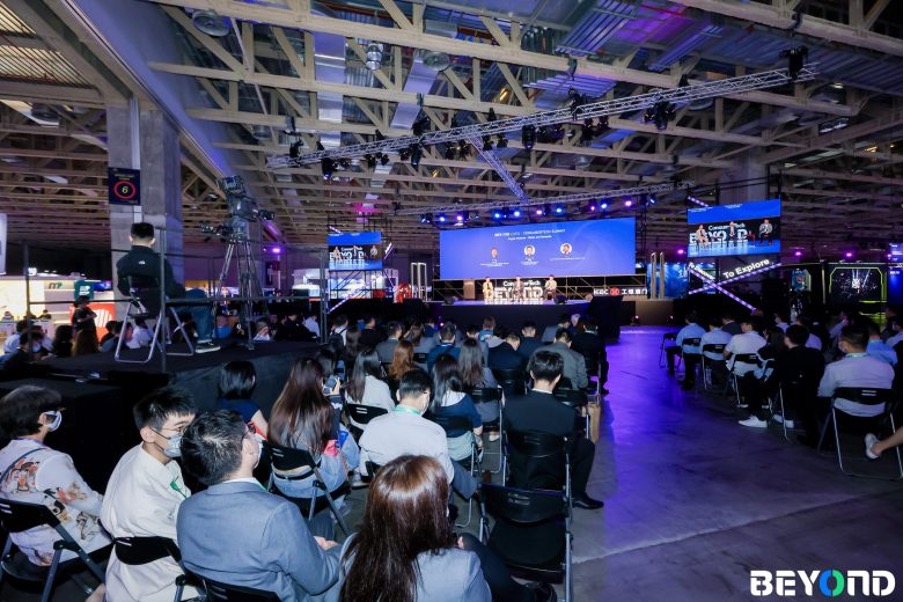 BEYOND Expo 2023 has three main stages to host a variety of forums and discussions. Credit: BEYOND Expo
In the Consumer Technology exhibition area, leading players such as Huawei, AliCloud, and Lenovo are among the exhibitors. There are also exhibitors like Cowarobot, which specializes in L4-level commercial vehicle autonomous driving, and Mogoauto, which focuses on L4-level autonomous driving of urban public service vehicle fleets, including buses, taxis, sweepers, patrol cars, ambulances, and logistics vehicles. Exhibitors focused on flight travel such as Xpeng Aeroht, and Ehang are also present.
In the Sustainable Development exhibition area, traditional giants such as China State Construction International, China Civil Engineering (Macau), Fujifilm, and Inspur are among the exhibitors. New companies that focus on hydrogen energy, agriculture, and plant-based meat such as Sinosynergy, Chinabric, and MoreMeat are also present.
The Healthcare exhibition area features exhibitors such as China Taiping, the nation's oldest national insurance brand, United Family Healthcare, Fosun Pharma, and the Guangzhou Taihe Medical Technology Innovation Center.
The BEYOND Expo is held at The Venetian Macao's Cotai Expo, which has been a major conference and exhibition venue in Macao since its opening in 2007. With an area of approximately 75,000 square meters, Cotai Expo is one of the largest MICE venues in Asia and features six independent exhibition halls over two levels, accommodating up to 5,000 exhibitors. It offers a wide range of flexible spaces, an international team of professional event planners, and one-stop MICE solution with diverse facilities and services.