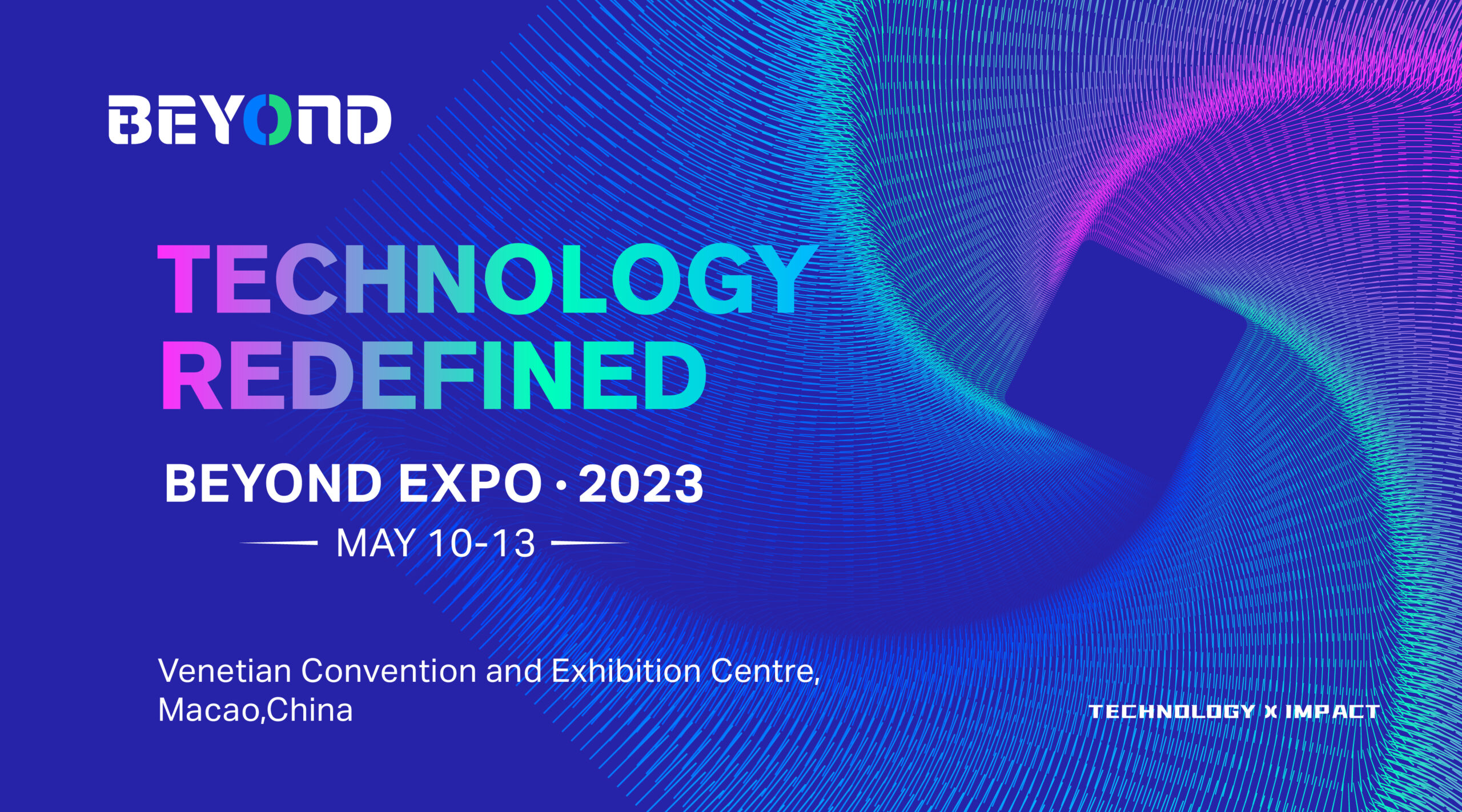 As one of Asia's largest and most influential international technology expositions, BEYOND Expo has drawn widespread attention from the global technology innovation industry. Founded in 2020, it has been held twice before with great success, bringing together 800+ exhibitors, 55,000+ visitors, 500+ business leaders, and world-class speakers to participate in 150+ industry panels at online and offline summits.
Technology has long been ubiquitous in our lives, revolutionizing traditional businesses and influencing every aspect of our daily lives. The global economy in 2023 and the post-pandemic era faces enormous challenges as businesses transition from reality to virtual reality. As a Chinese proverb says, there is no construction without destruction. The purpose of "Technology" is being redefined, and so is its value. Therefore, "Technology Redefined" will be the theme of BEYOND 2023, which will be hosted in Macao from May 10 to 13. Our goal is to introduce and discuss the latest innovative technologies in various industries and re-evaluate their economic value and social impact in this new era.
With the relaxation of strict Covid controls, BEYOND Expo 2023 is set to reach a new high in terms of scale, attendee influence, diversity of industries, companies, number of exhibitors and overseas visitors. The expo will be held at the Macao Convention and Exhibition Center, which is spread across approximately 100,000 square meters and can accommodate more than 1,000 exhibitors. We expect more Fortune 500 companies, large cross-border enterprises, tech unicorns, and startups to participate in this year's event. Industry forums and networking sessions will be held concurrently. We look forward to connecting attendees from all technological backgrounds with in-depth interactions to promote the global tech scene in the APAC region.
Comprehensive integration of cutting-edge technologies and industries with a focus on BEYOND sub-brands
BEYOND Expo 2023 will continue to focus on its three sub-brands: BEYOND Sustainability, BEYOND Healthcare, and BEYOND ConsumerTech. Through exhibitions and industry summits, the platform will facilitate the exchange of ideas to promote comprehensive industrial modernization, development and transformation, for better global technological innovation.
BEYOND Sustainability focuses on technological innovation and the application of environmentally sustainable technologies by fostering collaboration among individuals, companies, and governments worldwide, and stimulating their interest in sustainable development.
BEYOND Healthcare puts cutting-edge technologies, products and solutions in the life sciences industry at the center by creating a platform that integrates companies and connects upstream, downstream, investment and academic exchanges.
BEYOND ConsumerTech brings together the latest technologies and products in the consumer technology industry, ranging from foundational technologies such as AI, smart manufacturing, and semiconductor chips to industrial applications for individuals, home and travel, creating a world-leading consumer technology expo in Asia — the largest consumer market and supply chain hub in the world.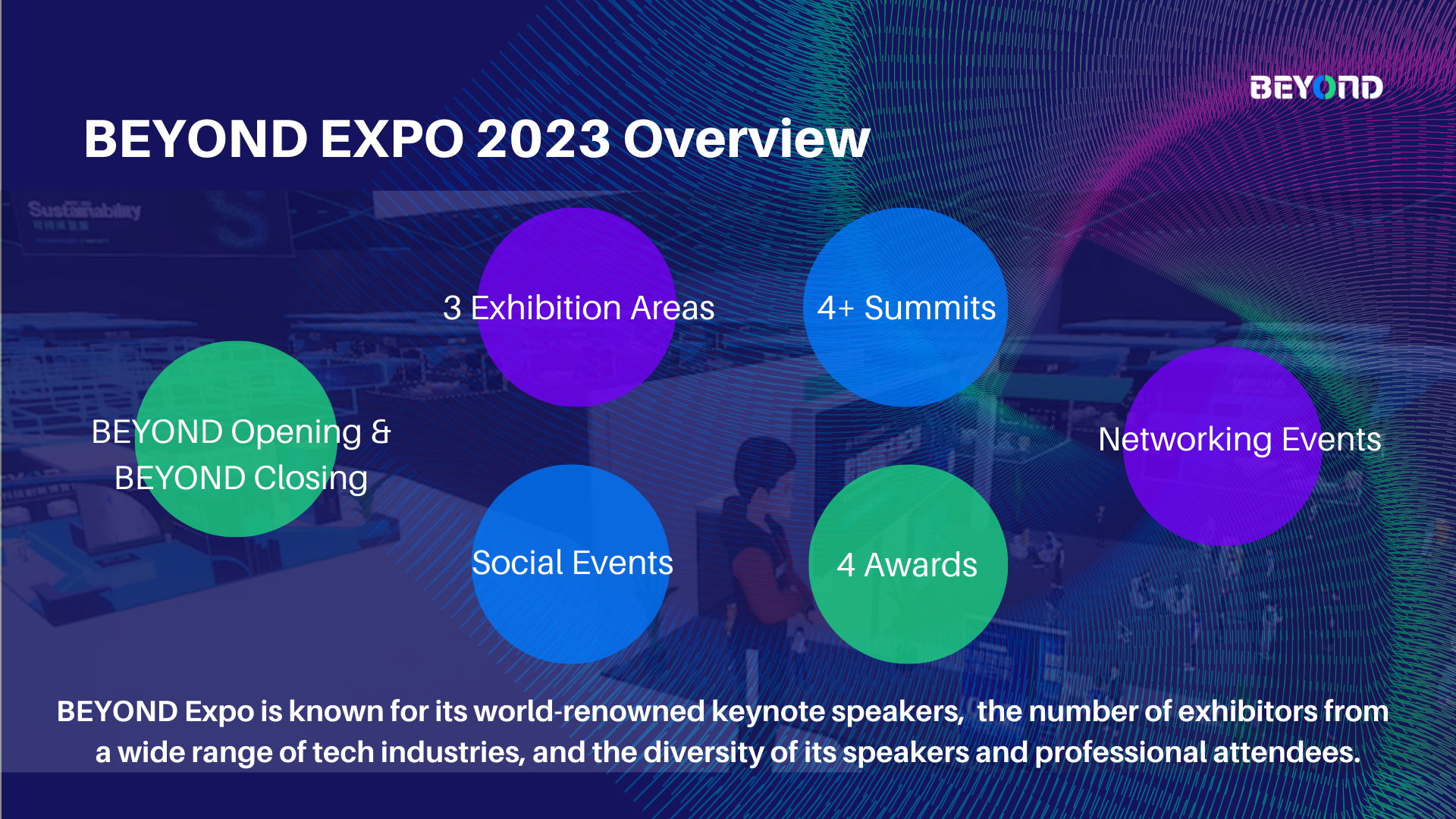 Global exchanges across three tech verticals
In BEYOND Metaverse, a unique virtual online event previously held for BEYOND Expo 2022, we created a visual feast of outstanding technological innovations and striking exhibition booths.
In the past two BEYOND Expos, Alibaba Group, Deloitte, Huawei, Nam Kwong (Group), SIMENS, ICBC (Macau), China State Construction International Holdings Limited (CSCI), and Bank of China Macau Branch participated in the BEYOND Sustainability exhibition to propose more low-carbon solutions for green development. Edwards Lifesciences, Fosun Pharma, BGI, Merck, Concord Medical Services, Abbott, and China Taiping attended the BEYOND Healthcare exhibition to share their latest research findings in the life sciences sector and connect the upstream, midstream, and downstream industries to discuss people's health and well-being. BYD, Insta 360, Nreal, OPPO, Pico, Macau Pass, Ant Bank, and SenseTime participated in the BEYOND ConsumerTech exhibition to promote the development of the consumer technology industry, discuss future trends and introduce new technologies for the transformation of the industry.
BEYOND Expo 2023 exhibitor area will continue to focus on its three sub-brands: BEYOND Sustainability, BEYOND Healthcare, and BEYOND ConsumerTech. It will attract 1,000+ exhibitors from around the globe, with 40% overseas companies exhibiting in Macao, and communicating with attendees from all over the world. The exhibition promises to be an informative and exciting experience for all attendees.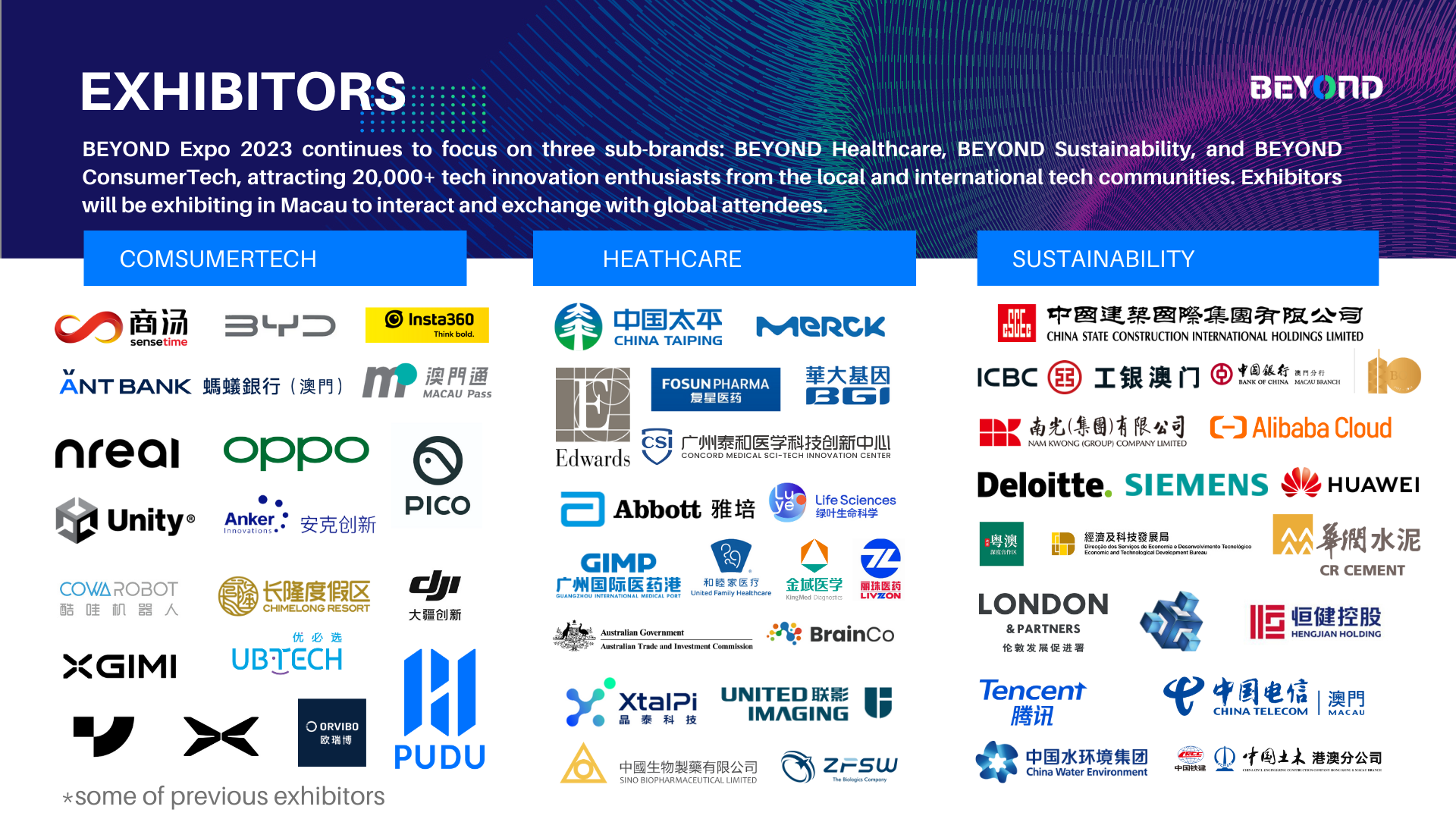 Meet world-renowned speakers at the opening and closing ceremonies and participate in 4+ industry summits for a smart future
The opening ceremony has always been a BEYOND Expo highlight. The organizing committee will invite industry experts, scholars and global business leaders to share key insights with technology innovators. BEYOND Expo 2023 will gather world-renowned experts to discuss the theme of "What's Next", and offer forward-looking perspectives to followers of global innovation. Speakers will also focus on technology and its impact by exploring and analyzing industry and innovation trends from a macro perspective.
At the industry summits, an important part of BEYOND Expo, global experts, scholars, and business leaders will discuss the industry's current and future situation. In BEYOND Expo 2022, the BEYOND organizing committee worked with China State Construction International Holdings Limited (CSCI) to co-host the Sustainability Summit with the Chinese Medical Association and China Taiping for the Healthcare Summit; ICBC (Macau) for the ConsumerTech Summit; Bank of China Macau Branch for the Global Investment Summit; and SenseTime for the Web3 Summit for deep-dive discussions across verticals, providing insight into the seamless integration of technology and industry.
BEYOND Expo 2023 will host at least four industry summits, including the Sustainability Summit, Healthcare Summit, ConsumerTech Summit, and the Global Investment Summit. The BEYOND Sustainability Summit will focus on green cities and infrastructure, alternative energy solutions, green transportation, food and agriculture, and green logistics. The BEYOND Healthcare Summit will share innovative insights and visions with global attendees. Tentative topics include innovative medicine and biotechnology, big data medical care, AI pharmaceuticals, cutting-edge medical equipment, future of medical research, innovative medical diagnostics, genetic testing, and anesthesia. The BEYOND ConsumerTech Summit will discuss artificial intelligence, portable devices, drones and robots, IC chips, smart home technology, and financial technology with the attendees. The BEYOND Global Investment Summit will focus on global investment, cutting-edge technologies, and the impact of technological innovation, serving as a platform for entrepreneurs, top investors, and industry leaders to discuss and share their experiences in discovering promising technological innovations. We look forward to connecting with all innovators to explore the future of these industries together!
Call for speakers:https://2023.beyondexpo.com/call-for-speakers/
BEYOND Awards to promote innovation in technology for social benefit
As the impact of technology on society and human development has always been its key focus, BEYOND 2023 will also feature three innovation awards for its sub-brands: BEYOND Healthcare Innovation Award, BEYOND Sustainability Innovation Award, and BEYOND ConsumerTech Innovation Award along with the BEYOND Impact Awards. BEYOND Innovation Awards recognize tech companies that offer innovative products and services with breakthrough technologies and industry-leading solutions to show the world the potential of technological innovation. BEYOND Impact Award recognizes individuals or companies with outstanding achievements and contributions to natural, societal, economical, and technological reforms, as well as solutions for carbon emissions, national health, environmental protection, and poverty alleviation under the premise of carbon neutrality, based on the United Nations' 17 Sustainable Development Goals (SDGs). After nominations and selection rounds, 10 winners will be chosen in each category. On May 12, the BEYOND Awards Committee will hold an award ceremony to announce the final winners, who will enjoy special benefits from the organizing committee.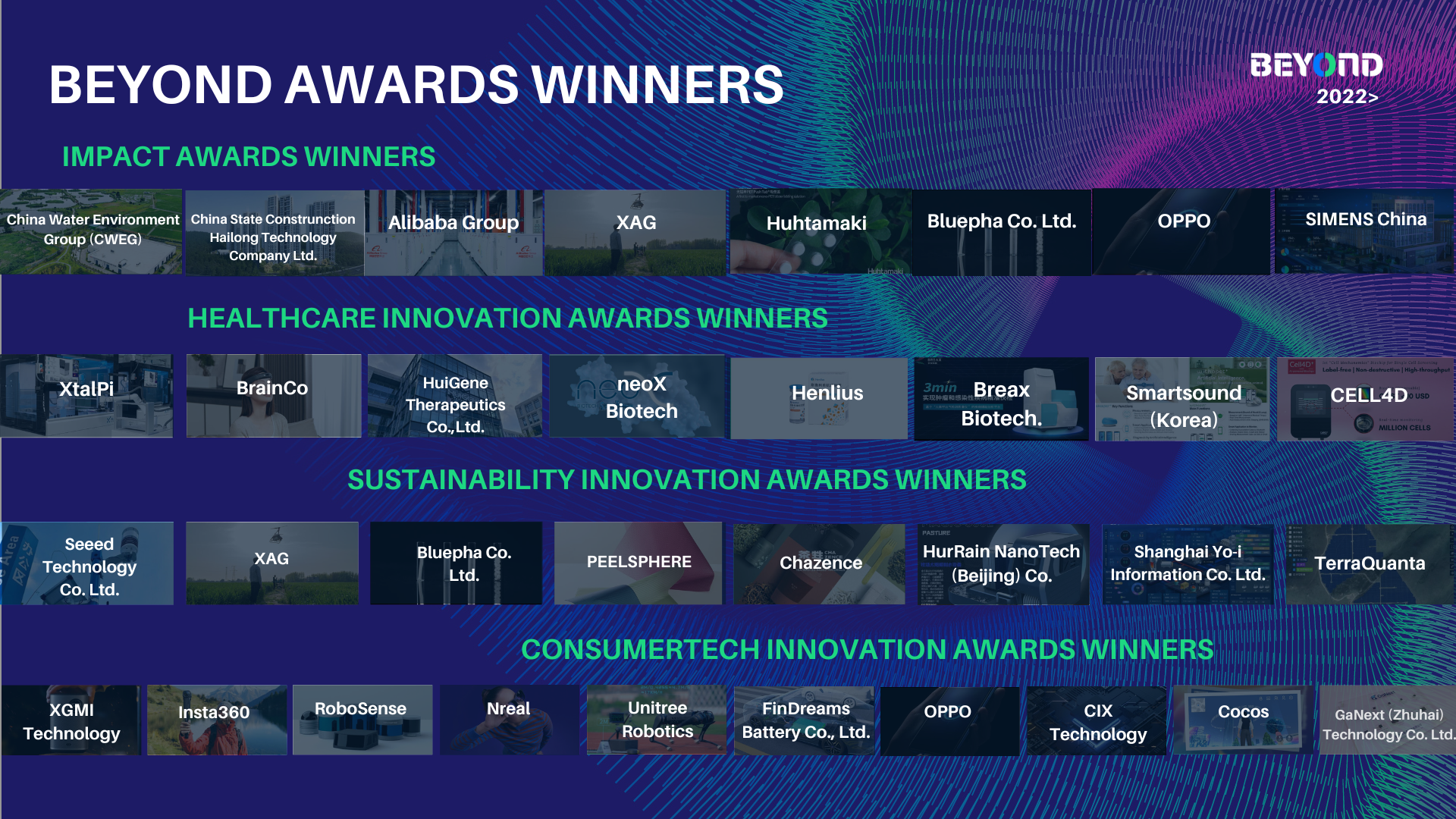 Click to get the complete list of winners for BEYOND Awards 2022
An extraordinary tech expo for global innovators in Macao
BEYOND Expo 2023 aims to distinguish itself across industries by comprehensively showcasing and discussing technology's commercial application and social value. Events such as Fund at First Pitch (VC meetups), Startup Roadshows, and Closed-Door Meetings will be organized to build a capital network centered on innovation for global tech entrepreneurs, and to create a high-quality source of business matching for investors and investment institutions. A media tour will be organized to increase company exposure. Social events, including dinners and parties, will also be held to help people build high-quality connections. In addition, other exciting events will provide a wonderful experience for attendees worldwide, promoting industry exchange and further strengthening the exhibitors' brand influence by reaching more technology innovators and enthusiasts.
See you again in Macao in May 2023!
We invite you to join us in learning about the immense potential of technology,
and creating a brighter future together!

Contact us:
Business partnership: [email protected]
Media partnership: [email protected]
Other inquiries: [email protected]