Plastics play a central role in numerous industries. The material has become firmly embedded in our lives, but increasingly that's a statement that can be taken literally – microplastics were found in human blood for the first time in March of this year, adding to concerns about the environmental impacts of white pollution.
The race is now on to find ways to reduce such pollution and develop alternative materials, especially in plastics-heavy areas such as product packaging.
Representatives from Unilever, Finnish consumer packaging company Huhtamaki and biomaterial company Bluepha discussed alternatives to plastics and the different approaches that these firms are adopting at the BEYOND Expo 2022 sustainability conference, held online in the BEYOND Metaverse.
The text below features some of the highlights of the discussion and has been condensed and edited for clarity.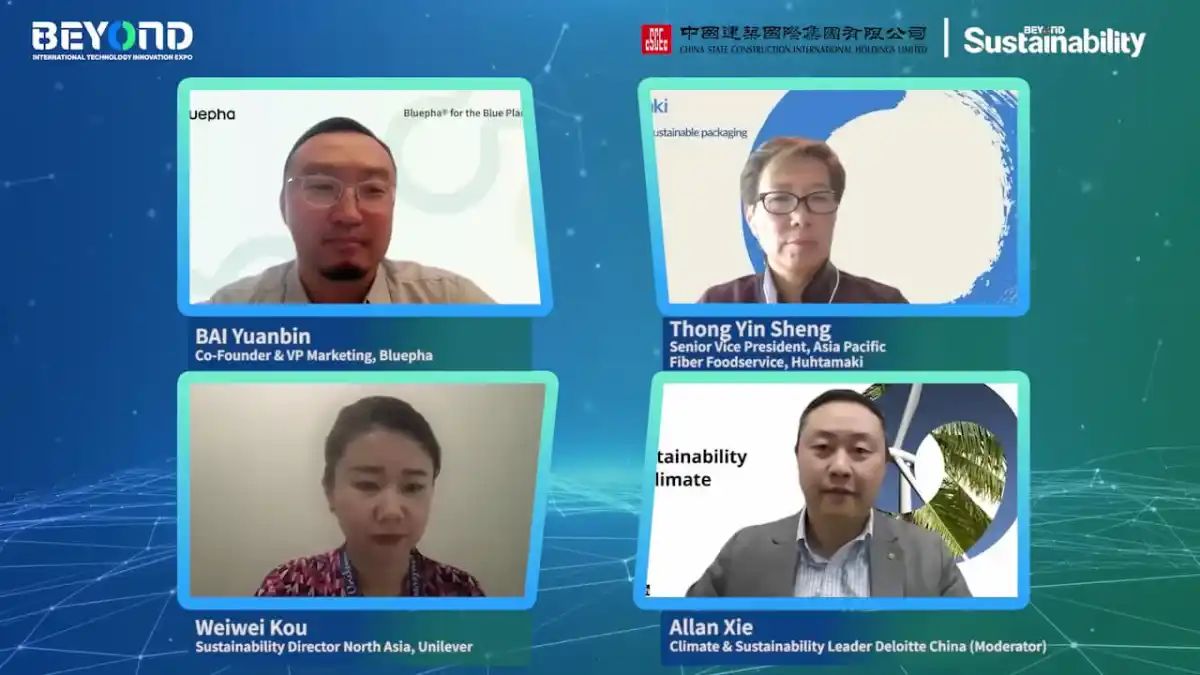 Huhtamak on food packaging
Thong Yinsheng, Senior Vice President, Asia Pacific, Fiber Foodservice, Huhtamaki
Only 5% of the carbon emissions in the food system are attributed to packaging in general. We know that the purpose of food plastic and as well as plastic control is to prevent environmental pollution. Since food packaging is essential, from an environmental perspective, we face several main challenges. Number one: making the positive choice in selecting the material for a fit of purpose. In terms of packaging and alternatives, we will look for solutions equal to or even better than the current plastic ones.
Another focus is increasing material recycling, especially at the end-of-life stage. It requires proper recycling technology as well as sufficient infrastructure. These are very critical.
Fiber will play a very important role. 70% of our product portfolio is made of fiber, either virgin fiber or recycled fiber. Virgin fiber is used primarily with food contact. And that's where we ensure that the food safety and hygiene regulations are being met. While for recycled fiber, typically we use it for a trace, for example, where the shell itself is already a natural barrier to prevent direct food contact.
To meet this growing demand for plastic-free alternatives, Huhtamaki's site in Alf, Germany is switching its focus from plastics to smooth molded fiber (SMF) products. That's where we are able to have a significant impact. It's the first such large-scale production capability in Europe. Now, when it comes to plastic, we are also focusing on how we can create new innovations in this. And now we have next-generation model materials that help minimize the number of layers being used.
Unilever on personal care packaging and recycling
Weiwei Kou, sustainability director North Asia, Unilever
We have a strong targets and commitments on plastics. There are four targets. The first one is regarding virgin plastic. We target to reduce original plastic by 50% by 2025, which means there will be 100,000 tons of absolute reduction.
Under the virgin plastics reduction, what we're doing is driving investment in innovation in reuse business models. Particularly in our laundry product line, we have concentrated washing liquid. Instead of two-liter big bottles, you have the 15 milligrams [eggs], but with the same washing effects. It is also recyclable, like non-virgin plastic.
The second target is to help collapse and process more plastic packaging than what we sell. Collecting in China is very expensive so we invest in partners to improve waste management infrastructure like collecting, sorting, and processing. Right now, we're looking for partners here in China to work on the collection model, because we don't have a collection capacity at this time.
The third target is 100% of our plastic packaging will be reusable, recyclable, and compostable. The fourth target is 20% of our plastic packaging will come from post-consumer resin (PCR), a recycled plastic. PCR is on average 20% to 30% more expensive than virgin plastics. That puts a lot of cost on us every year across all our product lines, particularly for our home care and personal care, and product lines that use more plastics.
Bluepha on bio-based alternatives
Bai Yuanbin, co-founder and VP Marketing, Bluepha
If using one sentence to describe our product, I'd like to say Bluepha is a 100% bio-based and marine-degradable biopolymer. It has four key features. First, it's a natural polymer produced by microorganisms. The production method is different. It makes the product different – not only different from traditional plastic, but it is also different from other kinds of biopolymer. It's the only biopolymer produced by a fermentation process rather than a petrochemical process.
Second, we use sustainable biomass at the feedstock to produce our Bluepha product. This biomass can be blonde or starch. Even [for] carbon dioxide, we have a unique technology named a biohybrid. That means we can use carbon dioxide and traditional biomass as feedstock.
Third, Bluepha has remarkable degradability in various natural environments and artificial environments, including marine freshwater, soil, industrial compost, at-home compost landfill, anaerobic digestion, and different kinds of environments.
And fourth, PHA (Polyhydroxyalkanoate) has versatile properties for multiple uses. By adjusting molecular structures, we can influence its all-around performance. We have developed different grades of Bluepha PHA to apply to rigid packaging, soft packaging, coated paper, fibers, coffee capsule, and other applications.