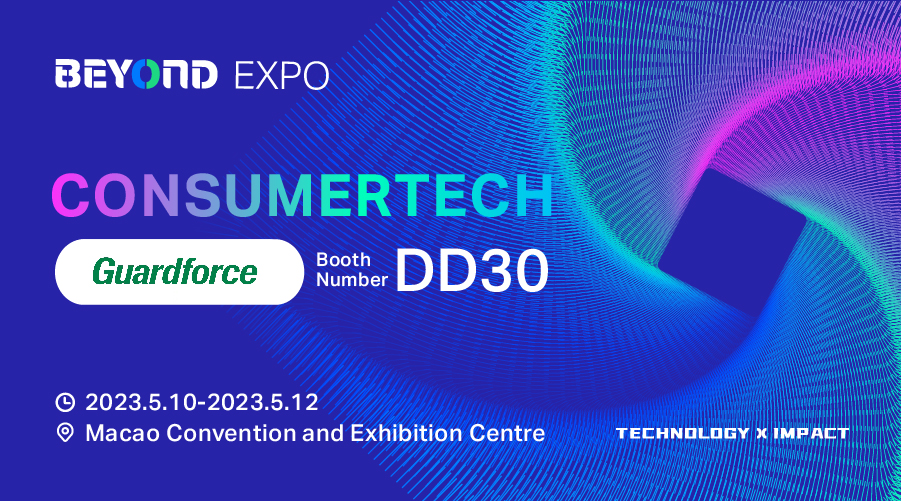 BEYOND 2023 will be hosted in Macao from May 10 to 12 at the Venetian Macao Convention and Exhibition Center. BEYOND Expo 2023 is set to reach new heights in terms of scale, attendee influence, diversity of industries and enterprises, number of exhibitors, and overseas visitors. Focusing on the three sub-brands of BEYOND, from independent exhibition areas to industry summits, we will promote exchanges in various segments, and jointly motivate the comprehensive upgrading and transformation of the industry to create an international technology exchange event!
The BEYOND organizing committee has set up nearly 100,000 square meters of exhibition area at the Venetian Convention and Exhibition Center in Macao for this year's expo. Several companies are looking forward to participate in the 2023 exhibition — the first offline event since the COVID-19 restrictions were lifted. Guardforce Macao Co. Ltd. has confirmed its participation at the BEYOND Expo 2023 and will make an exciting appearance in the ConsumerTech exhibition area. Guardforce will demonstrate smart living by showcasing AIoT solutions, including waste treatment, sanitation management, vital signs monitoring and AI application solutions, creating a sustainable society through ESG concepts.
About Guardforce
Guardforce is the only company in Macao that provides a one-stop security services, ranging from professional security guards, armed escorts and electronic security to integrated solutions for intelligent epidemic prevention. We have a 24-hour control room and patrol team to provide timely emergency support for customers. We have accumulated a wealth of experience, knowledge and skills over the years, and are actively introducing technology to create people-oriented products and services to improve our services.
Guardforce is leveraging technology to develop innovative and sustainable solutions in key areas such as elderly care, robotics, smart city and Internet of Things, which are conducive to building a better future. Our core businesses maintain optimal energy and resource efficiency, stay true to our mission and ensure safety of the community. We fully fulfill our commitment to our customers, employees and the natural environment, adding value to the operations and businesses of our stakeholders. We have been awarded ISO 9001, ISO 14001 and ISO 45001 certifications, which reflect that our business management, environmental, health and safety standards are among the highest in the world.
About BEYOND
Since 2020, BEYOND Expo has been held twice with great success. It has become one of the largest and most influential international technology expositions in Asia, attracting 800+ exhibitors and 55,000+ attendees worldwide. More than 150 industry forums featuring 500+ innovative business leaders as speakers will provide a global platform for insightful technology exchange.
BEYOND has officially announced that "Technology Redefined" is the theme for BEYOND Expo 2023, which will be hosted in Macao from May 10 to 12. BEYOND Expo 2023 is set to reach a new high in terms of scale, attendee influence, diversity of industries, companies, number of exhibitors, and overseas visitors. There will be more than 100 events and networking sessions. We look forward to connecting with global tech innovation enthusiasts and facilitating in-depth interaction in all fields, including enterprise, product, capital, and industry to promote the global tech scene in the Asia-Pacific region and the world.
For more cooperation, please contact us at:
Business Partnerships: [email protected]
Media Partnerships: [email protected]
Other Inquiries: [email protected]